We reached out to our webcam partners VBN with all of your questions regarding the sad passing of the eldest barn owlet.
Unfortunately, what we feared has happened: the oldest barn owl pup, K1, passed away last night from the effects of the unknown disease.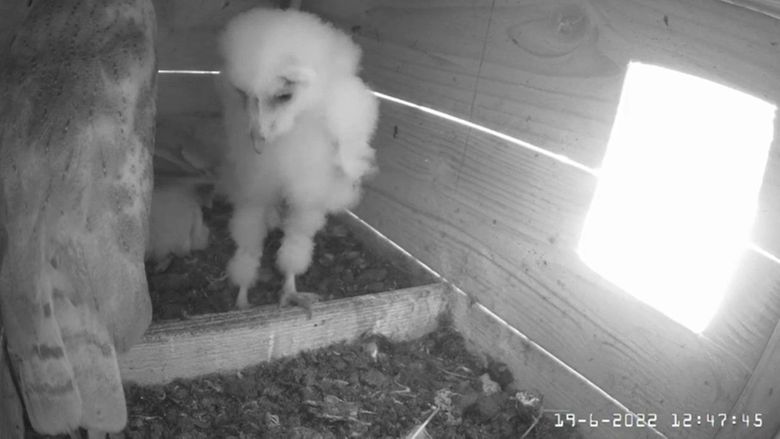 EMOTIONS
Yesterday evening K1 walked back and forth through the nest box and regularly stood at the flying hole, but just after 11 o'clock the owl suddenly fell over and did not get up anymore. The disease turned out to be too much for the body to overcome. The death of K1 understandably evokes many emotions. We as Team Barn Owl, of which a number of us saw K1 with our own eyes a few days ago in apparently good condition while ringing, are also touched by this sad development. Some of the most frequently asked questions about K1's fate and our decision not to intervene:
WHY RING, BUT NOT INTERVENE IN CASE OF ILLNESS?
A legitimate question. At Experience Spring we do not intervene to save individuals, but ringing is of course also a form of intervention in nature. What's up with that? The most important thing to keep in mind here is that the data we collect through ringing is used to better protect the barn owl population as a whole. Saving a sick chick is about helping one individual , which is not in line with our vision of respecting nature's processes and letting them run their course.
ARE YOU GOING TO REMOVE THE BODY?
As Team Barn Owl, after weighing up all the arguments, we decided not to take K1's body out of the closet. It is of course not a pleasant sight for us as viewers, but that alone is no reason to remove K1: we do not treat this nest box any differently from other hives, only because a camera happens to be on it and people are watching it. We want to show the natural process exactly as it is. K1 will gradually disappear further into the nest floor, where all kinds of small creatures that play an important role in the cycle of nature can extract valuable nutrients from the body.
IS THERE A RISK OF INFECTION FOR THE OTHER CHICKS?
K1 died as a result of an unknown disease/parasite that apparently affected the respiratory system. However, we have seen that before the disease got worse a few days ago, K1 had been walking around with mild symptoms for some time. We have been in contact with experts from the DWHC (Dutch Wildlife Health Centre) and have jointly concluded that if the disease is indeed contagious (which we do not know), the other chicks here, given the long-lasting symptoms of K1, have probably been on for a while. exposed, but appear to be strong enough to fight off the pathogen. This possible resistance to the disease will pass on K2, K3 and K4 to their offspring, making the barn owl stronger as a species, a nice thought.
CAN THE BODY BE EXAMINED?
A good question, after all, research into causes of death is for the benefit of the population as a whole. However, the Dutch Wildlife Health Center was unable to perform an autopsy on the body due to crowds. Keep in mind that many dead animals are found every day and an extensive section is a time consuming and expensive job. Not all dead animals can be examined.
COULD K1 BE POISONED?
Poisoning is certainly a threat to barn owls, but is not an issue here. The landowners involved are very committed to all life on their property and poison simply does not get in. In theory, poisoned mice could of course roam in nearby fields, but the long-lasting symptoms of K1 were not equivalent to poisoning, which usually affects the nervous system and rapidly deteriorates the animal.
COULD BIRD FLU PLAY A ROLE?
Bird flu is highly contagious and is currently still present in the Netherlands. Barn owls are hardly infected as a result (in the wild, infections mainly occur via waterfowl) and the disease also shows other symptoms. Infected birds have a compromised nervous system and make many uncontrolled movements. We didn't see that at K1.
We understand the footage is quite distressing, especially if you''re an avid barn owl webcam viewer, but please remember that nature is not always happily ever afters and kind, this is a natural process and the point of the webcams is to experience nature in its more authentic forms.